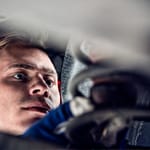 The suspension system in your auto is designed to keep your ride smooth and comfortable. When the suspension system fails, you'll start feeling every bump in the road. More importantly, performance factors such as handling and control will suffer, especially when you're turning sharp corners and traveling at high speeds. At Jaguar Cherry Hill, we want to help drivers recognize the common signs of a failing suspension system.
The Shocks and Struts Are Oily
In addition to experiencing a rougher ride, you'll see visible evidence of damage when your suspension starts to go.
Read More