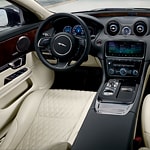 Strength and comfort are the two biggest defining features of the Jaguar XJ, a luxury sedan with a classy, elegant aesthetic and powerful under-the-hood elements.
Do you love a customized ride? The Jaguar XJ comes in your choice of either a V6 standard engine or a supercharged V8. The standard boasts 340 horsepower, while the supercharged clocks in at 470 horsepower. Both can reach 60 MPH in under 5 seconds, and both can be personalized with over a dozen colors in either metallic or cleat coats.
The Jaguar XJ's exterior features are safety-specific, like the wrap rear windshield that offers panoramic views so you can better check your blind spots. There are also the LED headlights for brighter, clearer drives on both curvy backroads and straightforward highways.