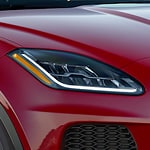 For the past several years, the Jaguar E-Pace has been making itself known in the luxury, performance SUV segment. This small SUV has won a number of fans due to its performance and its exterior styling. Here is a quick look at the E-Pace exterior features.
The E-Pace offers a number of stylish and unique performance wheels to enhance the look of the SUV. That includes wheels in a range of sizes up to 21-inches. One of the most unique wheels available includes a 19-inch Black Satin model available on the Checkered Flag edition of the E-Pace.
To make a powerful first impression, this year's E-Pace features a large and stylish black mesh grille with the Jaguar emblem at its center. This large grille allows for enhanced air take for the E-Pace's engine.