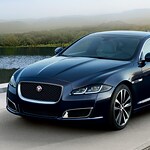 The Jaguar has been one of the most well-regarded automobile manufacturers for decades. The Jaguar XJ meets up to the high ideals of the company and is one of the most popular luxury sedans on the road today. A primary reason why the Jaguar XJ is commanding in its class is because of the tremendous array of exterior features.
The extraordinary exterior features on the Jaguar XJ include uniquely styles front and rear bumpers. For example, the front bumper comes with attention-grabbing chrome air intake bezels. In addition, the Jaguar XJ exterior has a unique, stunning floating roofline. The floating roofline gives the sedan a stylish appearance that emphasizes its low, long, dashing profile.
If you desire more information about the Jaguar XJ, visit Jaguar Cherry Hill today. Via a test drive, you will have the chance to see the Jaguar XJ and its extraordinary features up close.