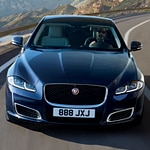 When it comes to luxury sedans, the premier Jaguar XJ is regarded as being at the head of its class. There are a variety of reasons why the Jaguar XJ consistently get broad acclaim, including its exterior features.
The exterior features on the come with visually stunning 5-spoke alloy wheels with glass black diamond turned finish. The teardrop design of the exterior ensures that this luxury sedan catches attention whether you're motoring in CHerry Hill, NJ or anywhere else. In addition, the design of the Jaguar XJ includes a dynamic floating roofline. This design addition includes a rear windshield that seamlessly wraps about the car.
If you would like to find out more about the Jaguar XJ, if you would like to take a test drive, visit us at Jaguar Cherry Hill. Our team will answer any questions you have about the Jaguar XJ.