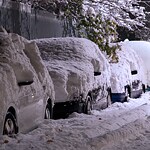 Since the days are shorter in the winter, one of the winter car care tips to consider is checking your headlights and taillights. You need to make sure these are in proper working order so that other drivers can clearly see you and so that you can see the road if you're traveling in Cherry Hill in winter weather conditions.
Have Jaguar Cherry Hill check your battery and alternator. The posts on the battery should be cleaned so that there is no debris preventing contact between the cables and the posts. The alternator should be checked at the same time to ensure that there is enough charge to keep each component running while you're driving.
Another area that you want to care for in the winter is your radiator. The coolant should be flushed so that antifreeze can be added. This fluid can keep the hoses and other components from freezing as you don't want to add water to your cooling system as this could result in freezing.