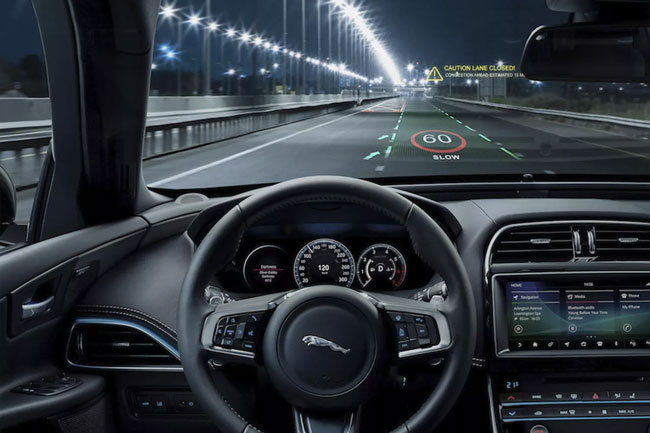 Jaguar is known for its powerful, stylish and dynamic line of vehicles. Performance, safety and comfort are all mixed into different luxurious creations. It has also led the way in innovation, both in its exterior design and its interior advancements. One such development that is bursting onto the scene is the all-new 3D heads-up display system. Let's take a look at this feature in vehicles at Jaguar Cherry Hill.
Heads Up Display
Jaguar has developed a new system called the Smart Cabin system. Other automotive companies have already been utilizing heads-up technologies, but not like this. Those heads-up displays receive calls or check speed. The Jaguar version uses revolutionary technology, using what is known as augmented reality, in the new display.
Many video games use this technology, but not many car companies do yet. This is an exciting new innovation that will increase driver engagement and safety. The Jaguar-Land Rover 3D display would project navigation instructions, obstacles in the road and more. This would be shown as a virtual image on the road ahead.
The most powerful usage of this display would be seen in its safety benefits. Today, many drivers have to look down, even just for a second. They may have to check GPS directions or alerts. They may have to quickly see smartphone or cockpit notifications. The Jaguar-Land Rover 3D display, however, will keep drivers' eyes on the road at all times. As a bonus, this technology will be paired with already-solid safety features such as automatic braking. Obstacles ahead in the road could be better identifies with this technology, such as fallen trees in a storm when the driver has low visibility.
Passengers, too, will be impressed with the 3D technology. The display is set up so that interior cameras inside the Jaguar can track passengers' eyes. They will be able to watch 3D movies without any special accessories.
Overall, the Jaguar 3D heads-up display should be an exciting new chapter in driving technology.
Get Your New Jaguar Today
You want to visit Jaguar Cherry Hill to find the latest models with updated features. We have a complete selection of sleek and stylish Jaguar cars in Philadelphia for you to test out.