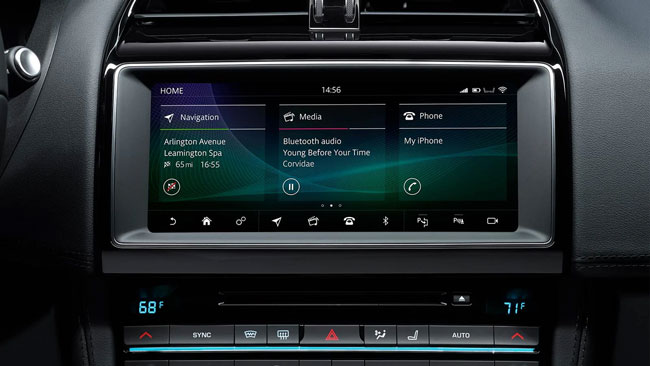 One of the best parts of buying a new Jaguar is the access you receive to innovative systems. These not only enhance the drive, but they make every part more enjoyable. One feature that we enjoy is the InControl system. At Jaguar Cherry Hill, vehicles with the InControl system have the backing of high-speed Ethernet and an Intel multi-core processor to keep you fully connected.
Let's look at this system in Jaguar vehicles.
InControl System for You
Depending on what year and model you choose, you might have the Touch or Touch Pro version of the InControl system. Each one has its own set of features, but they are similar in nature. Just connect your smartphone to gain access to the apps and the Meridian sound system. This plays your favorite music in high-quality sound.
In addition, InControl also includes a navigation system so you know where you are going. With the driver-assist functions, your drive is safer than ever before. Take advantage of the Park Assist to get in and out of any parking space.
Finally, control your luxury Jaguar from a distance with the help of some remote features. You can access your windows, for example. On top of that, call for roadside assistance or make an emergency call right from the app. There is even a stolen vehicle locator included.
Get Your New Jaguar Today
If you don't have an InControl system, you are missing out. It's time to grab a new Jaguar in Philadelphia today. You deserve the latest technology to keep you safe and comfortable. Allow us to find you the perfect Jaguar model for your lifestyle. We can fit your budget and needs at the same time. Check out our inventory and take a test drive today. While you are here, make sure you get more information about the latest Jaguar lease offers, happening for a limited time only.